This is a medical professional who assists the orthodontist with different types of treatment. They are the ones who prepare the patient for the orthodontist, maintain the patient's medical records, and set up the treatment room. Basically being an orthodontist assistant you are the orthodontist's "right-hand man."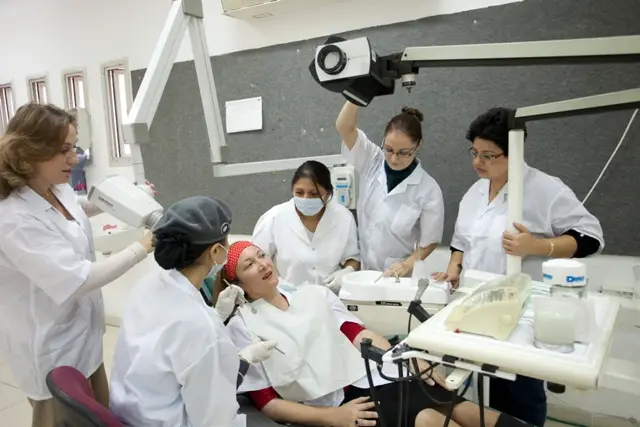 Source: Wikimedia

Job description of an orthodontist assistant
The main job that an orthodontist assistant does is to help the orthodontist and do whatever they need them to do during the various dental procedures. Some of these duties include:
Preparing the patient to see the orthodontist
Preparing the treatment or examination room by making sure that the instruments are disinfected and sterilized along with any surfaces in the room such as the chair the patient sits in,
Throwing away any disposable instruments, gloves, and disposable gowns.
Setting up the instrument trays and preparing the materials that are going to be needed that day.
Assisting the orthodontist during any procedures.
Taking vital signs and recording the information in the patient's medical charts
Helping the orthodontist with a dental emergency
Recording diagnostic and treatment information in the patient's chart
Providing post-op care and ensuring that the patient understands what to do and not do after having the procedure done.
Instructing patients in how to have good oral hygiene
Removing and cleaning appliances
Taking impressions for study casts
Ordering and maintaining all the supplies and materials that the orthodontist will use for their treatments and patient care.
You also want to make sure that you have good communication skills, great hand-eye coordination, and finger dexterity.
Work environment and schedule
Most orthodontist assistants will work Monday thru Friday with a 40 hour work week. An orthodontist assistant will normally work a 8-4 or 9-5 shift but if they work for an orthodontist who has evening hours one or two days a week the orthodontist assistant will have to work evening hours. Approximately 20% only work part-time. If there is more than one orthodontist assistant in the dental office they may take turns working the evening hours. It is highly unlikely that being an orthodontist assistant you will have to work weekends, holidays, or be on-call although if there is a dental emergency the orthodontist may request to have an orthodontist assistant to come in and help with the dental emergency.
One thing that you will need to get use to is being on your feet for most of the working day either moving around the office or standing in one place by the orthodontist when they are doing a procedure. You also need to be a people person and have a pleasant speaking voice when talking to patients, especially younger children who may be frightened. You will also have to be detailed oriented and have the ability to multitask. You will also have to know how to operate an x-ray machine and how to take x-rays as these are important for the orthodontist to see so they know what plan of treatment is correct. You may also have to do office duties such as answering the phone, attending staff meetings, making appointments, etc.
The office where an orthodontist works is clean, temperature controlled, and sterile, just as you would find in a regular dentist's office. Working in the office you would be wearing scrubs along with masks and gloves to help protect yourself from any infectious diseases.
How to become an orthodontist assistant?
To become an orthodontist assistant most employers require a high school diploma or GED plus graduating from a training program in orthodontics. You can take this program in community colleges, private dental schools, and state agencies. Most employers prefer to hire someone with a dental hygienist or dental assisting degree.
When entering a dental assisting program you will earn an associate degree. You will be trained to support the work of an orthodontist as part of the team and in a clerical capacity. During this program you will take classes in radiology, infection control and prevention, oral anatomy and dental materials. You will also learn several dental procedures such as how to build rubber dams, polish teeth, and create dental molds. Many of these associate degree programs to become an orthodontist assistant offer an internship opportunity in order to give you some work experience doing hands-on training under the supervision of a trained orthodontist assistant. It will take approximately 2 years to obtain your associate degree. You could also learn the trade of being an orthodontist assistant through on-the-job training.
If you want to become a Certified Orthodontic Assistant the Dental Assisting National Board (DANB) offers certification for orthodontist assistants. In order to get your certification you will have pass two qualifying examinations in infection control and orthodontic assisting. As of 2011 certification by the DANB for orthodontist assistances was only recognized in 38 states. Certification is required in Oregon, Massachusetts, New Jersey, and Maryland.
When trying to decide which school to attend you should choose a school that will prepare you for the certification exams because being a certified orthodontist assistant can help you earn a bigger salary and give you a slight advantage of being hired over one who is not certified. You also want to look at the range of orthodontic educational classes that the school offers and to ensure that the school program will cover orthodontic techniques and equipment that is used by orthodontics. A student going into an orthodontic assistant program should also look at the amount of practical hands-on experience the school and program offers because working as an orthodontic assistant you will be required to do a lot of hands-on work for the orthodontist. Two approaches to gaining hands-on experience is through internships and lab-based coursework so if the program offers either or both you can be assured of getting hands-on experience.
While enrolled in an orthodontist assistant program you will take classes in learning how to identify teeth, tooth alignment using dental appliances such as braces, and orthodontic tool techniques and how to use them to help correct the patient's bite, dental office management, the different dental material used, and safety in the dental office. Other courses that may be included are orthodontic assistant procedures and orthodontic anatomy and terminology.
Orthodontist assistant salary
An orthodontist assistant salary depends on your geographical location, where you are employed, your educational level, whether you have an associate degree and certification, and how much work experience you have. Entry level salaries can range from $24,076-$45,621. There are five states that pay above the national average salary of an orthodontist assistance. These five states include New Hampshire, Washington DC, Massachusetts, Alaska, and Minnesota. In these states the average annual salary is $41,000-$48,000.
There is also the benefit package that your employer may offer that can include paid vacation and sick days, paid holidays, paid personal days, health and life insurance, pension, profit sharing, 401k, social security, and short and long disability insurance. If you are only working part-time you may not be offered a benefit package or one that just offers the basic paid vacation and sick days, paid holidays, health insurance, and social security and pensions.
Being an orthodontist assistant has a great job outlook with a prediction of more that 31% percent of new jobs that will offered within the next 8 years. This adds up to approximately 90,000 more jobs for orthodontist assistants that are well trained, have an associate degree, and are certified.
Comparing the hourly salary of an orthodontist assistant working in the United States you can see that the salary is better. In the United States the hourly salary is $11.63-$21.66 and in Canada an orthodontist assistant's annual salary is CAD $10.00-$16.00 an hour. Working in Australia the average hourly rate is $20.00 and in the United Kingdom the average hourly salary is 11 pounds.